EVERYBODY'S A CRITIC: HBO's 'Girls' is Evaluated by Girls -- And a Mom
[One of the new elements of our revamped, imminently relaunched TV WORTH WATCHING site is the EVERYBODY'S A CRITIC feature, in which solicit informed opinions from those with special expertise regarding specific TV programs -- lawyers reviewing courtroom dramas, etc. We're very excited about this new feature, another way for you to share your perspectives with us. This second entry is written by Alison Mastrangelo, a college journalism student who has written for us already, and is chronologically qualified to react to Girls, HBO's new twentysomething series. She's 21. And here's her perspective... - DB] "In preparation for my TVWW interview with Jenni Konner, one of the executive producers of the new HBO series Girls, I previewed the first three episodes of the series with my girlfriends -- and then with my mother. We all took turns being entertained, and completely mortified..." (more)
BIANCULLI'S BEST BETS Sunday, April 22
FROZEN PLANET MARATHON

Discovery, 1-9 p.m. ET

Any marathon of this nature series would be worth watching, but this one is TV Worth Hearing as well. For this special Earth Day showing, Discovery Channel is presenting this series with its original narration by Sir David Attenborough, not the swapped-out U.S. narration by Alec Baldwin. And it makes the series seamless, since tonight's special finale – shown for the first time by Discovery – is hosted by Attenborough on-camera. It's called On Thin Ice, and it's the respected naturalist's personal view of how the world has changed, and why, in the more than 50 years he's been exploring it. For related TVWW coverage, see my Bianculli's Blog review HERE and Jane Boursaw's just-posted Reel Life with Jane overview HERE.

ONCE UPON A TIME

ABC, 8 p.m. ET

In the "real world" on this side of fairy tale land, Rumpelstiltskin is Mr. Gold, played by Robert Carlyle. In both worlds, he seems to hold sway over Lana Parilla's fiery femme – a queen in that world, and a mayor in this one. Tonight, after what she considers a personal betrayal, Mayor Regina Mills confronts Mr. Gold with a fury, but not necessarily with a chance of defeating him.

FOX 25th ANNIVERSARY SPECIAL

Fox, 8 p.m. ET

Has it really been 25 years since Rupert Murdoch launched American TV's first full-fledged fourth network since DuMont folded in the 1950s? Close enough – and this two-hour prime-time program is a celebration, and reunion, built around the little network that could, and did, thanks to such early successes as The Simpsons and The X-Files. For a very savvy recap of why Fox's silver anniversary is worth celebrating, read Diane Werts' just-posted For Better or Werts column HERE.

THE GOOD WIFE

CBS, 9 p.m. ET

This is the penultimate show of this season, so expect things to start happening a bit faster and more furiously. That's saying something, too, because this excellent show is nothing if not briskly paced – and full of surprises. Tonight, one of those surprises involves Judge Cuesta (David Paymer), who is presiding over a case argued by Alicia (Julianna Margulies).

MAD MEN


AMC, 10 p.m. ET

Details, as always, are sketchy for this show – but we know that we get to see Rebecca Pryce (Embeth Davidtz) and her husband, Lane Pryce (Jared Harris), out at dinner – and we also know that a pitch to a client goes very, very bad.
Ah, yes, perhaps the most delightfully deranged show ever aired by Fox or any other network -- the 1996 classic Profit, starring Adrian Pasdar as a corporate climber who gives new meaning to the word sociopath. These promos nicely hint at its dark and droll wit. (Hard to find on out-of-print DVD, but worth the search!) - DW
'Frozen Planet' -- Not Your Father's Wild Kingdom
Jane Boursaw
With the hundreds of nature documentaries that have aired over the years, you start thinking there must be nothing left for us to see on this Big Blue Planet. But that's just silly. This year alone, we've had James Cameron venturing to the deepest part of the ocean in a torpedo-shaped submarine, and shows like Discovery Channel's Frozen Planet. If you haven't yet checked it out, Discovery Channel is airing an all-day Frozen Planet marathon Sunday, April 22, from 1-9 p.m. -- this time the original UK version with David Attenborough narrating...(more)
'Veep' Is Hardly a Washington Monument
Ed Bark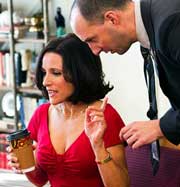 Here's a new comedy series for those who expect absolutely nothing but incompetence, cynicism and crass opportunism from their elected leaders in Washington. Which might well cover most of us these days. Still, the timing may not be quite right for HBO's Veep, which is about as far removed from Mr. Smith Goes to Washington and The West Wing as many able-bodied Americans are from a decent job . . . (more)
HBO's 'Veep': Four More Years!
Theresa Corigliano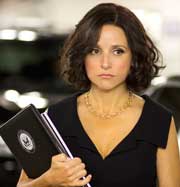 I am still smiling, and I watched HBO's three preview episodes of Veep 10 hours ago. It's just that funny. In this new and very welcome half-hour comedy (debuting Sunday at 10 p.m. ET), Julia Louis-Dreyfus is pitch perfect as Selina Meyer, vice president of the United States. The catch to being the free world's second-in-command has always been . . . (more)
Thanks for Being a Part of Our Lives, Mr. Clark
Ed Bark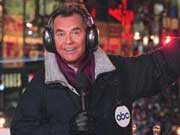 No one gets out alive, not even the man known for most of his adult life as "America's Oldest Teenager." Dick Clark died Wednesday at age 82 of a heart attack . . . Clark's principal legacies are American Bandstand, that staple of teen life in the 1950s and '60s, and the New Year's Rockin' Eve specials that date back to Dec. 31, 1972 . . . (more)
Reasons to Celebrate: Fox is 25, and Bart Simpson Is Still in Grade School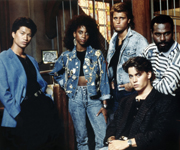 Crazy like a Fox! It's impossible to overstate the influence this outrageous "fourth network" has had on TV since it stormed into prime time in April 1987 -- yes, 25 years ago, which accounts for Sunday night's clips-and-reunions salute, Fox's 25th Anniversary Special (April 22 at 8-10 p.m. ET)... (more)
TRUE CRIME: The 9/11 Deception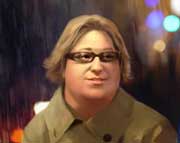 Real life these days seems to provide the best mystery tales of all. And there's a doozy told Friday night in The Woman Who Wasn't There, the 8-9:30 p.m. ET encore of the film that earlier this week delivered the highest ratings ever for cable's Investigation Discovery channel. It's a 9/11-centered suspenser that's thankfully far from ID's usual focus on deadly women, killer trials, stalkers, motives and murders . . . (more)
THE UNIVERSE

It's not quite the claimed "Complete Series Megaset" (Season 6 comes out May 15), but it looks great on Blu-ray anyway -- especially at $59 for 16 discs as Amazon's TV deal of the week.
DAVID BIANCULLI
Founder / Editor
DIANE WERTS
Managing Editor


CONTRIBUTORS
JANE BOURSAW
Reel Life with Jane
ED BARK
Uncle Barky's Bytes
THERESA CORIGLIANO
Terri TV
BILL BRIOUX
TV Feeds My Family
ERIC GOULD
The Cold Light Reader
NOEL HOLSTON
The Grassy Noel
RONNIE GILL
Altered Reality
GERALD JORDAN
Crossing Jordan
TOM BRINKMOELLER
Raised on MTM
ED MARTIN
Ed Martin's TV Mix
DAVID SICILIA
TV Moneyland
ALAN PERGAMENT
Still TalkinTV
MIKE DONOVAN
Thinking Inside the Box
P.J. BEDNARSKI
I Like to Watch
ERIC MINK
Tiny Tin Voice
MARK BIANCULLI
The Son Also Criticizes
DIANE HOLLOWAY
Holloway's Couch

Sign up for a
FREE subscription
for TVWW updates